Normally with young children you can fudge the birthday thing a little bit, and in the past we've been able to keep it a secret until the day before the party and we didn't have to explain discrepancies (e.g. your birthday is on X day but we're having the party on Y day). This more or less eliminated the questions and impatience that tend to go hand-in-hand with young kids and special days.
But this year Minnow was highly cognizant of the calendar and the exact date of their birthday, in part because their cousin had a birthday the month prior so birthday funtimes were fresh in their memory. Nearly every day of November and December they asked me about the date of their birthday and wanted a countdown. For planning reasons we needed to have the party after the actual date, so that was yet another thing that had to be explained.
Having the birthday party before the date wasn't feasible this year, but next time, so help me God I will make it work if only to spend less time answering questions about it.
I thought they would want a PJ Masks party or something similar and was pleasantly surprised when they asked for a Mario and Yoshi party. Not just because I love Mario, but because I thought I could DIY decorations to make it more special.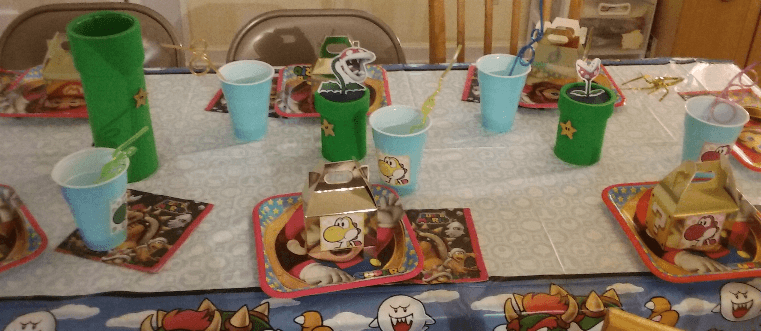 Well, the DIY has been hit or miss. I spent a lot of time researching ideas and figuring out what was reasonably doable, and then more time modifying those plans based on the supplies that were actually available. I ended up making ? block treat boxes out of mini gable boxes and color-coding them with Yoshis. I stickered the cups with matching Yoshis so the kids wouldn't get their cups mixed up. Most of the Mario-themed party favors available were cheap plastic things no one would want to actually play with but I actually did find some cool bracelets at Party City (and took a few for myself, ahem). The rest of the stuff in the loot boxes were unthemed perennial favorites (sticky hands, noise makers, plastic snakes, so on.)
I was very fixated on making piranha plant centerpieces and I settled on foam-wrapped tin cans with paper plants, and a taller warp pipe vase for cut flowers. The foam looks good, I think it looks a lot better than spray-painted PVC pipe, but I had a very hard time getting the foam to stay wrapped around the cans using permanent gluestick and double-sided tape, which normally works great. I eventually resorted to super glue.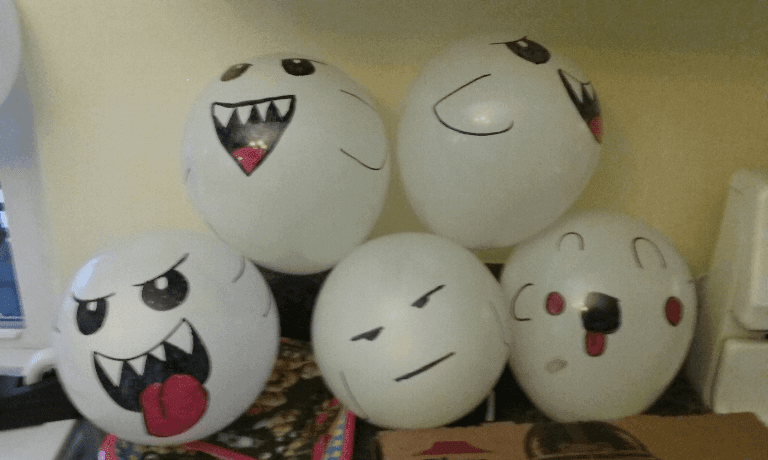 The best thing I did was boo balloons using sharpies on white balloons. I was making them as the first guests arrived, and I told them if they wanted to help they could make a few of their own. Some of the kids really got into it and came up with some cute and creative balloon designs and it ended up being a fun impromptu craft activity. I would definitely have design-your-own balloons again.
I decided to splurge and get a cake from Publix and unfortunately the cake must have been too sweet, the kids didn't eat much of it at all, they mostly just nibbled the icing and ate the ice cream. If I had to choose between making extra decorations and making a cake, I'd go with the cake next time for sure. But I think the kids enjoyed themselves and had fun, and Minnow seemed to like the decorations and had fun playing with the warp pipe centerpieces before and after the party.