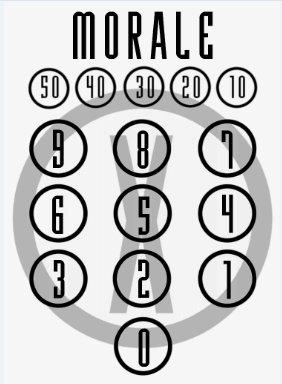 Yesterday during pockets of free time I worked on trackers and player aids for Going Ashore. Even small things like trackers can create interesting design questions. Is it better to have a 1-chit tracker, or use two chits and have a much smaller tracker? Should the numbers be ascending?
I decided against a player mat, opting for player aid cards instead. I've always liked cards because they fit with the deck and they're modular. I used a descending morale tracker with 10's and 1's because that seemed most intuitive to me, it is based on the tracker in the original version of Agent Decker. The current design is honestly a bit too minimalist for my tastes, but the alternative was to go all-in on the spooky X-Files theme and I didn't want a super-dark cardset–not only personal preference, but considering the volume of black ink.
I played a very enjoyable game of the prototype last night, and it was enjoyable in part because I happened to draw 3 appropriately-powered enemies for the first round. Enemy draw is purely random, and sometimes I'll draw 3 really difficult enemies off the bat and I just kind of flounder.
This ties into another issue I had with my theme. Some of the villains are Monsters of the Week, some are mytharc, and some are series events (like evidence being stolen). The deck is designed to have extra enemies, so some will never enter play. I may at lease color-code MOTW/vs the others for a variant where you only draw MOTW the first two rounds, and make sure those are all assigned to weaker enemy cards.