I got a big box of old TMNT figures from my parents' house and I've been parceling them out every week or so. Between this and regular viewings of the 2012 Nickelodeon show Minnow is REALLY starting to get into TMNT. I periodically ask if they have any requests because sometimes I have the figure they want in my stash. They recently requested April, which pleased me since TMNT is such a sausage party. I asked why and they said, "She's part of the team!" After I finished dying of happiness I considered my options.
You see, I do have an April figure but it's the 1992 version which looks like this: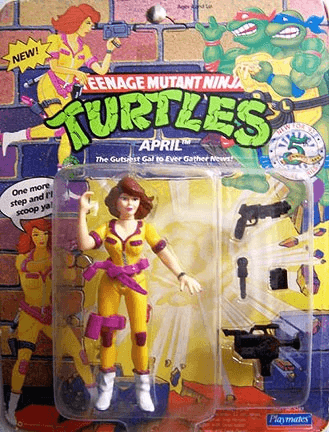 My kid is a fan of the 2012 show, in which April looks like this: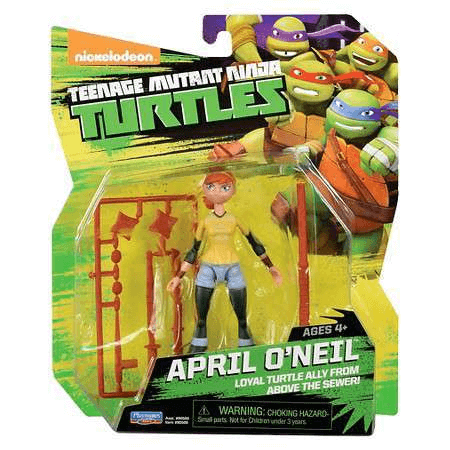 OG April would be unrecognizable to Minnow. Since the Nickelodeon show ended in 2017 the figures are not easy to find in stores. I've seen the core TMNT figures available in discount outlets, but not secondary or minor characters. I'd resigned myself to scoring a loose figure on eBay when I had the most ridiculous luck. I was digging through the action figure racks at the secondhand store and I noted they (like most American stores) divided the toys into "boy" and "girl" toys. The criteria is somewhat nebulous, but generally "girl toys" include anything that has "girl colors" (usually pink and purple, but sometimes yellow, light blue, green and even suspiciously light shades of red are offenders) or anything that resembles a "girl" in form or is small/cute/tiny. Everything else, thus definitively identified as Boy Object Approved For Boys, ends up in the sprawling "boys" section. As a result toys like micro machines, electronic games, and minifigs often end up in the girl section, even though these clearly have wide appeal. I don't make the rules, because obviously if I did I would make better rules than those.
Anyway, on a whim I went to the "girl" section and what did I find tucked away in the back of one of the racks? A $3 grab bag of loose action figures that included April!! I couldn't believe my luck! I have no idea what the other figures are from, they will find their way into the toy box and maybe they will get played with and maybe not.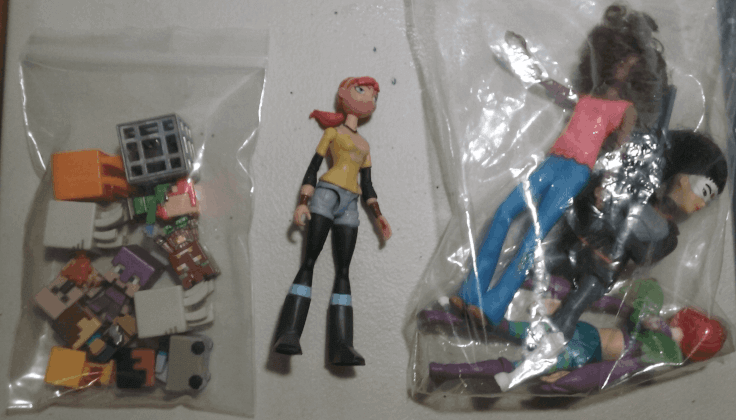 I also scored a loose bag of Minecraft miniatures, they appear to be blind pack mystery minis that you could pick up for $3.50 to $5 each, depending on the series. Those were a little pricey by thrifting standards at $5 for the lot, but hey you only live once.
I'm not sure how long Minnow's interest in TMNT will last, but they've also put in requests for Splinter and Dog Pound and I'm keeping an eye out for a more modern Shredder since my 90's figure is very different from the 2012 design. I passed on a 90's version of Splinter a few trips ago for the same reason but considering the waiting game for finding decent lots on eBay I'm going to be less picky in the future.